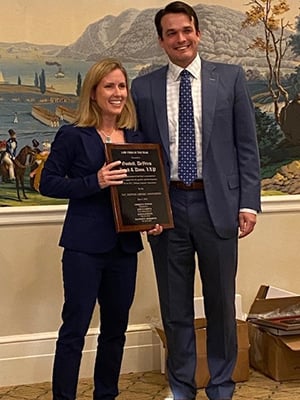 Goodell DeVries has been honored with the inaugural "Law Firm of the Year" award from the DC Defense Lawyers Association (DCDLA). The award recognizes the firm for its contributions to the organization's mission, its enhancement of the organization's reputation, its consistent participation in the organization's offerings, and its overall influence on the DC defense bar.
Goodell DeVries lawyers have served DCDLA in a number of capacities.
Craig Brodsky has been consistently active in the development of the DCDLA and its leadership, including serving as President in 2014 and receiving the DCDLA Lawyer of the Year award in 2020.
Kamil Ismail serves as the DCDLA representative to the Defense Research Institute (DRI).
Kelly Hughes Iverson annually presents to and educates Superior Court judges.
Sean Gugerty coordinates a team of Goodell DeVries volunteers to produce summaries for DCDLA's Case Update and contributes frequently to DCDLA's publications.
Kelly Hughes Iverson, Kamil Ismail, and Craig Brodsky took the lead in drafting the joint DRI/DCDLA amicus brief in the Motorola Inc. v. Murray case, which resulted in the adoption of the Daubert standard in DC.
In addition to those mentioned above, Nikki Nesbitt, Jared Green, Jhanelle Graham Caldwell, James Phelan Robinson, and Ifeanyi Ezeigbo are active DCDLA members.
Goodell DeVries accepted the award at the DCDLA's annual banquet on June 9, 2022.
We are delighted to be recognized and consider it an honor to serve DC's defense bar.