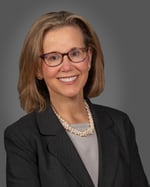 Goodell DeVries has been ranked in Law360's 2020 Glass Ceiling Report for its impressive number of women equity partners. Led by Managing Partner Linda S. Woolf, Goodell DeVries has an equity partnership that is nearly 40% women.
Women also hold key leadership positions throughout the firm. Two of the three members of the firm's Executive Committee are women. Linda Woolf chairs that committee, along with two additional internal firm committees. She also co-chairs the firm's Commercial Litigation Practice. Partner K. Nichole Nesbitt also serves on the Executive Committee and chairs an additional internal firm committee. Partner Shannon Madden chairs an internal firm committee, and partner Marianne DePaulo Plant chairs the firm's Medical Malpractice Litigation Practice.
Eight of Goodell DeVries's women attorneys have been recognized in the 2021 edition of Best Lawyers in America, and another two were named to the Best Lawyers Ones to Watch ranking. Two have been ranked in Chambers USA for 2020. Seven have named Maryland Super Lawyers for 2021, and three were selected for Super Lawyers Rising Stars. Linda Woolf and K. Nichole Nesbitt were recently elected Fellows of the American Bar Foundation.
Women are also well-represented among the firm's other professionals. Of 16 paralegals, 15 are women. In addition, Goodell DeVries's administrative directors include women leading the Human Resources, Finance, and Marketing/Business Development functions.
Goodell DeVries is the only Maryland firm of its size ranked in Law360's 2020 Glass Ceiling Report.
In 2016, the firm placed 10th nationally (and 1st in Baltimore) in Law360's rankings of the Top 100 firms for female attorneys.