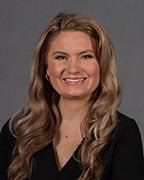 Goodell DeVries partner Kaitlin Corey was featured in the Maryland Bar Journal's Member Focus section. In this Q&A, titled "Leave No Stones Unturned," Kaitlin talks about her career, her service to the MSBA, and her ways to unwind and de-stress. Here's an excerpt:
What is the best piece of advice you have received from someone in the
legal profession?
It's better to be over-prepared than under-prepared. Take the time to intensely
analyze the issue, dig deep, don't leave any stones unturned, and make the most
persuasive and educated argument you can for your client.
What is your fondest memory of your legal career so far?
One of my best "wins" so far was crafting a unique legal argument in a trademark
case (that intersected with FDA regulations) which formed the basis of a summary
judgment motion. After providing a copy of the motion to opposing counsel prior
to filing, the parties resolved the case.
You can read the entire article in the latest issue of the Bar Journal or see it here.
Kaitlin is a partner at Goodell DeVries. Her practice focuses on exploiting and protecting intellectual property, including copyrights and trademarks, false advertising, and negotiating business transactions and agreements.