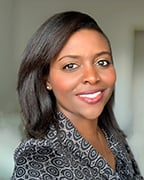 Goodell DeVries partner Jhanelle Graham Caldwell was profiled by Super Lawyers in "No Blueprint: Jhanelle Graham Caldwell's Musically Paved Path to the Law." Here are some excerpts:
"Many lawyers are familiar with the combination of adrenaline and anxiety that comes with performing during a trial. Jhanelle Graham Caldwell knows it better than most - thanks, in part, to her experience approaching a different kind of bench."
The profile traces Jhanelle's journey as a young musician, singer, and theatrical performer to an accomplished medical malpractice defense lawyer.
"Caldwell attributes much of her professional nerve to her early years on stage. 'The lights are down, it's your turn to come out from the wings, and the spotlight's on you. When you're well-prepared, there's a confidence that comes from knowing you've done what you needed to do to be there,' she says. 'I apply a lot of those skills from early on, the confidence I had performing publicly, to my current trial practice. I draw on the same things. The nervous energy that then translates into the ultimate performance, being able to convey what it is that you've practiced for so long.'
Jhanelle has performed at local events and shows, including the Baltimore Bar Foundation's Cabaret & Cabernet and the Young Victorian Theatre Company's 2016 production of Gilbert and Sullivan's Trial by Jury. She serves on the board of Maryland Volunteer Lawyers for the Arts.
Jhanelle is a partner in Goodell DeVries's Medical Malpractice Practice Group. Her practice is focused primarily on defending health care providers and health care institutions in professional liability matters alleging birth trauma, serious bodily injury, and wrongful death.