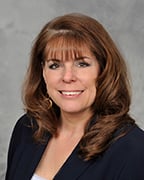 Congratulations to Janet Forero on being inducted into the American Board of Trial Advocates (ABOTA). Janet was officially voted into ABOTA membership at the group's National Board Meeting on January 23, 2021.
ABOTA is an invitation-only national association of 7,600 experienced trial lawyers and judges dedicated to the preservation and promotion of the Seventh Amendment to the U.S. Constitution, which guarantees the right to civil jury trials. ABOTA's primary goal is to educate the American public about the history and value of the right to trial by jury and is dedicated to elevating the standards of skill, integrity, honor, and courtesy in the legal profession.
Janet is a partner with Goodell DeVries. Her practice is concentrated on the representation of professionals in malpractice claims, including individual health care providers, hospitals, long-term care facilities, academic medical centers, mental health providers, and dentists. She is recognized as a leading medical malpractice defense lawyer by Best Lawyers in America and Maryland Super Lawyers.