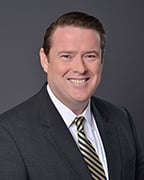 Goodell DeVries is pleased to announce that Derek M. Stikeleather has been named Chair of the firm's Appellate Practice Group.
A leader in appellate advocacy, Derek frequently briefs and argues appeals in medical malpractice, commercial, product liability, and class action matters. He was instrumental in two recent notable Maryland appellate victories. In 2021, Derek persuaded Maryland's Court of Special Appeals to overturn the largest birth-injury award in U.S. history, a $205 million judgment, and order JNOV for the defendant hospital. In 2020, he advised the Goodell DeVries team that persuaded the Maryland Court of Appeals to formally adopt the Daubert standard for all expert testimony and retire the Frye-Reed test.
These landmark wins have culminated more than a decade of work briefing and arguing dispositive motions and appeals in state and federal courts across the country. Derek has argued on behalf of physicians and several prominent hospitals before the appellate courts of Maryland and the District of Columbia and in the United States Court of Appeals for the Fourth Circuit. Beyond the region, he has also successfully argued class action and commercial appeals in the California Court of Appeal, New York's Appellate Division (First Department), and the United States Court of Appeals for the Fifth Circuit.
Derek has also made time to brief and argue federal immigration appeals pro bono. In April, Derek successfully petitioned the Eleventh Circuit to review and reverse the Board of Immigration Appeals' decision denying asylum to a Cuban dissident journalist. Law360 and Bloomberg Law covered the precedential published decision. In another case, he convinced the Board to vacate an Immigration Judge's denial of asylum and permit re-argument on the merits.
Derek is a co-editor and frequent contributor to the Maryland Appellate Blog, published by the Maryland State Bar Association Litigation Section. He is also a member of The Defense Research Institute's (DRI) Appellate Advocacy Committee and serves as the Fourth Circuit editor of DRI Daubert Online, which tracks developments in the federal circuits' application of the landmark Daubert decision. He is a frequent lecturer on best practices for Daubert challenges to expert testimony.
Appellate Practice at Goodell DeVries
Our appellate professionals bring dual perspectives as both trial and appellate lawyers. We understand the appellate impact of seemingly inconsequential legal and evidentiary rulings and work to strengthen cases and preserve issues for appeal. When the time comes for appeal, we identify key issues early and shape a potent strategy. We look for industry groups to file helpful amicus briefs. We write persuasive post-trial motions to support appellate arguments and craft briefs and arguments that keep the court's attention on winning issues. Our appellate practice spans all practice areas in state and federal courts, and we have won appeals across the country.
About Goodell DeVries
Goodell DeVries is a regional law firm with a national presence. From product liability and mass torts to medical malpractice law, complex commercial litigation, insurance, toxic torts, and more, Goodell DeVries's team of attorneys handles the most complex legal challenges for clients across the country. Our lawyers are ranked among the best in the nation by leading directories, including Chambers, Best Lawyers and Super Lawyers. To learn more, visit www.gdldlaw.com.