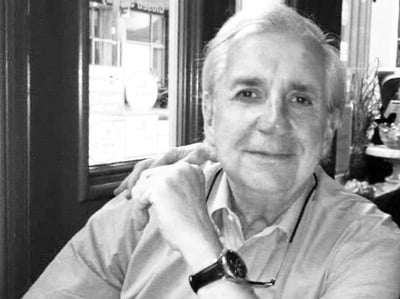 Everett Charles Dann, Jr. died on June 16, 2018 in Los Angeles, California following a massive stroke. He was 71 years old.
Chuck Dann had a long and successful career as a trial lawyer and counselor to clients and peers alike, having practiced law in Maryland for 45 years before his death. He graduated from The University of Maryland Law School with honors in 1973, where he earned the Order of the Coif and was a member of the University of Maryland Law Review. Upon graduation from law school, he joined the premier trial department of its day, Semmes Bowen and Semmes. He became a partner only seven years later. Until 1992 he chaired the Towson office of Semmes, when he left to join former colleagues who had previously departed Semmes to form the litigation firm of Goodell, DeVries, Leech & Gray. The firm later added Chuck's name to its mast, becoming Goodell, DeVries, Leech & Dann, LLP. Over his career, Chuck represented clients in a variety of civil cases including product liability, environmental, premises liability, insurance coverage and general tort liability issues. He specialized in defending complex product liability actions being sought out to serve as national counsel for and on the national trial teams of several major product manufacturers. He managed the nationwide recall of water heater controls manufactured by Robertshaw Controls and then became the go-to lawyer in cases alleging tap water scalding from water heaters. He won every tap water scald case he tried, effectively stemming efforts to sue control manufacturers for failing to warn that hot water can burn. His success in this and other nationwide product liability claims lay in his gifted ability to explain complicated engineering principles to juries in such a simplified manner that it seemed like just plain common sense.
For many years Chuck also was one of the most experienced and knowledgeable insurance coverage lawyers in Maryland. He was involved in representing parties in many of the key insurance coverage cases decided before the Court of Appeals of Maryland, Maryland's highest court. Indeed, although Chuck officially retired from day to day practice in 2013, he stayed involved in what must be the longest running case in Maryland jurisprudence, the Lloyd Mitchell asbestos coverage litigation, which generated its first published appellate opinion in 1992. This case is still regarded as the seminal case in Maryland defining the trigger of coverage in progressive injury cases. He combined his incisive ability to analyze engineering problems with his knowledge of insurance coverage law to serve among national environmental coverage counsel to Zurich Insurance Company, providing advice on coverage claims involving environmental issues. And his thorough understanding of Maryland's unique statutory scheme for contribution among joint tortfeasors led him to be a leading authority on release law.
Chuck was a pioneer who was among the first in the profession to recognize the importance that technology would play in the practice of law. He used a laptop at Semmes before secretarial staff even had word processors. He convinced his partners at Goodell to network their computers in 1994, years before many of the large firms had done so. His actions were instrumental in enabling GDLD to be selected over nationally-known, much larger firms to serve as national counsel to a manufacturer of pacemakers, managing and serving as lead trial counsel in class actions filed in the U.S., Canada and Australia, as well as in potentially thousands of claims and lawsuits across the nation and in the Middle East, Europe and Japan. This representation was a coup for a start-up boutique firm of then only 25 lawyers. It catapulted Goodell DeVries into the top tier of law firms in the country defending product liability claims.
Chuck's interest in technology only grew over time. Indeed, he returned to school to earn a Masters' Degree from University of Maryland University College in Computer Systems Management and a Chief Information Officer Certificate in 2000.
Chuck's most enduring legacy, however, is how he touched and influenced the lives of the lawyers with whom and against whom he practiced. It says volumes about his ability and professionalism that more than one adversary referred clients to him to represent. He mentored many, those that worked directly for and with him as well as those who merely sought counsel from an always-open door. Stephen Marshall, now a partner at Venable, began his career under Chuck's wing. He stated, "Chuck taught me how to be a lawyer. How to think like a lawyer, seeing all the different angles. He also taught me the necessity of making sure you took care of the details, the little things that can make a difference." The most striking characteristic was his ability to look forward, stay positive and make the best of bad situations, said Marshall. Other lawyers uniformly remarked on Chuck's ability to lead by example, recalling Chuck's loyalty, his integrity at every turn, his calm demeanor, his ability to parse logical, simple and—after he explained them—obvious solutions to what everyone else thought were insurmountable problems. He continually schooled young associates on his two rules of practicing law: "Rule No. 1: Don't sweat the small stuff. Rule No. 2: It's all small stuff." As one of his former law partners said, he was "an oasis of calm and sanity in this often-frantic business" who "had a teacher's soul…[was] unflaggingly kind, always enthusiastic and ever patient." He was, in short, a lawyer's lawyer.
Chuck was born on October 30, 1946 to Everett and Elaine Dann in Baltimore, Maryland and grew up in Catonsville. Chuck graduated high school from Baltimore Polytechnic Institute.
In 2014 Chuck and his wife of 24 years, Helen Szablya, moved to Los Angeles to be close to their family. He is survived by his wife, and step-children Anna Meiners Morini (Fred Pompermayer) and Alexander Meiners (Kimberlee). He took particular joy in his adoring granddaughters Ava Dora and Ella Grace Morini, and Frances Alexander Meiners.
Additional survivors include his aunt and uncle, Gloria and Allan Patterson of Bend, OR; cousins Gale Evans, Gregg Patterson of Bend, OR; cousin Judy Silvestri of Hunt Valley, MD and Stuart Bonsall of FL; cousin Nancy Breimayer of Belding, MI; and Jerry Dann of Fountain Hills, AZ. His extended family reaches throughout the US and Canada. His previous marriage to Carole Ridgeway Dann ended in divorce.
Per Chuck's specific request there will be no formal memorial service. Informal celebrations of his life for family and friends are planned for Los Angeles, Seattle, Toronto, Baltimore, Columbia, DC and New York.
In honor of Chuck, memorial contributions can be made in his name to Maryland Volunteer Lawyers Service, Inc, online at www.mvlslaw.org or sent to MVLS at 201 N. Charles Street, Suite 1400, Baltimore, Maryland 21202; and to Creative Alliance 3134 Eastern Avenue Baltimore, MD 21224.