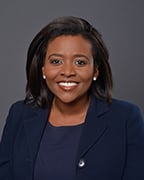 Goodell DeVries is pleased to announce that Jhanelle A. Graham Caldwell has been elected a partner of the firm, effective January 1, 2021.
Jhanelle is a member of the firm's Medical Malpractice team. She defends health care providers and health care institutions in professional liability matters alleging birth trauma, serious bodily injury, and wrongful death.
During law school, Jhanelle earned a health law certificate and was a judicial intern for former Chief Judge Robert M. Bell at the Court of Appeals of Maryland. She also worked as a law clerk at The Johns Hopkins Legal Department in Mount Washington, Baltimore.
Before pursuing a legal career, Jhanelle spent three years as an Intramural Research Training Award Fellow at the National Institute of Neurological Disorders and Stroke (NINDS) and the Fogarty International Center for the National Institutes of Health. In the latter post, she was assigned to Bangkok, Thailand and Kathmandu, Nepal, where she aided the execution of contracts for the development of a childhood malnutrition study in Asia, Africa, and South America.
She was recently selected for Best Lawyers in America's "Ones to Watch" list for 2021, and she was named a Rising Star by Maryland Super Lawyers.
Jhanelle is a graduate of the University of Maryland School of Law (J.D., cum laude, 2013) and the University of Pennsylvania (B.A., 2007).