Joining Forces. Delivering More.
The law firms of Goodell, DeVries, Leech & Dann and Astrachan Gunst Thomas are pleased to announce they have combined, effective February 1, 2022. The combination joins Goodell DeVries's powerful litigation experience with Astrachan Gunst Thomas' business, intellectual property, and transactional expertise, and significantly expands the services offered to local, regional, and national clients.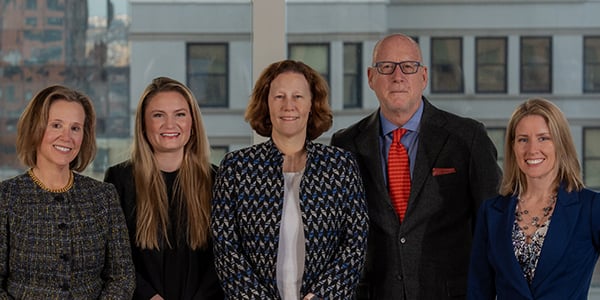 Linda S. Woolf, Kaitlin D. Corey, Donna M. D. Thomas, James B. Astrachan, K. Nichole Nesbitt
Goodell DeVries's attorneys have a deep bench of litigators who represent clients throughout the United States in product liability and mass torts, complex commercial and class action litigation, insurance, toxic torts, and appellate matters. The firm is highly regarded for its professional liability defense and for its medical malpractice litigation defense. These medical malpractice lawyers represent many of the largest and most renowned health care systems throughout Maryland, Virginia, and the District of Columbia. The firm also has an active Maryland cannabis law practice.
Astrachan Gunst Thomas' attorneys bring many combined decades of business, intellectual property, mergers and acquisitions, and transactional experience. The combination will allow Goodell DeVries to offer to its clients, old and new, a full menu of services, including general business counseling, negotiation and preparation of business and intellectual property agreements, mergers and acquisitions, intellectual property litigation, intellectual property clearance, registration, protection and licensing, employment law, and advertising/mass communications law. Astrachan Gunst Thomas is nationally known for its expertise in copyrights, trademarks, trade secrets, advertising law, and litigation relating to these disciplines, and the representation of businesses with creative products.
Linda Woolf, Co-Managing Partner at Goodell DeVries, looks forward to the opportunities the new combination offers. "Joining forces with Astrachan Gunst Thomas means we can deliver even more to our clients. Our new colleagues bring deep experience in everything from business counseling and transactions to IP litigation, protection, and exploitation. We represent organizations across many different industries, and we see the increasingly complex business and transactional questions that arise for them. We're excited to add to our bench a team with the knowledge and experience to advise on those matters."
Jim Astrachan adds, "This is a great opportunity for the clients and lawyers of both firms."
The combined firm retains the name Goodell, DeVries, Leech & Dann and is located at One South Street in downtown Baltimore. For more information, visit www.gdldlaw.com.