Nearly every lawyer I know answers yes to one of these questions: Do you serve on the board of a corporation, NGO, a nonprofit entity or religious organization? Has a transaction in which you've served as counsel become the subject of litigation? Has a client of yours been involved in litigation arising out of some matter you've handled for the client?
When the answer to any of these questions is "yes," an ethical issue has arisen. Unfortunately, many lawyers do not fully analyze the ethical rules that are at issue in these circumstances.
The two primary ethical rules in play are Md. Rule 19-301.7(a)(2) (Conflict of Interest – General Rule) and Maryland Rule 19-303.7 (Attorney as Witness).
Under Md. Rule 19-301.7(a)(2), a lawyer has a conflict of interest when the representation of the client is "materially limited by the lawyer' own personal interest." A prime example of this type of conflict is explained in Comment 10 to the rule — "when an attorney's own conduct in a transaction is in serious question, it may be difficult or impossible for the attorney to give detached advice."
Another example is continuing to represent a client after a statute of limitations expired.
A third example can be found in the case of Attorney Grievance Commission v. Powell, 461 Md. 189 (2018). Powell was disbarred for numerous rule violations including a conflict of interest. The probate court had awarded attorneys' fees and costs against both Powell and his client, and Powell failed to advise his client and obtain consent to further representation.
According to the court, "when [fees and costs were] levied, a conflict of interest was created between Powell and Charles Wingler. As Charles Wingler and Powell were found jointly and severally liable, Powell's incentive was to lessen his liability, which would increase Charles Wingler's obligation. Additionally, there is no evidence in the record that Charles Wingler gave his informed consent to the conflict in writing or otherwise." In the context of Rule 1.7, Powell's own personal interests became more important than his client's.
Thus, in situations where counsel may have a personal interest, common sense dictates that counsel should reevaluate whether the personal interest poses a substantial risk to the continued representation of the client.
Closely related to the "lawyer's own interest" conflict is the "lawyer as a witness" conflict under Rule 19-303.7 which provides: (a) An attorney shall not act as advocate at a trial in which the attorney is likely to be a necessary witness unless: (1) the testimony relates to an uncontested issue; (2) the testimony relates to the nature and value of legal services rendered in the case; or (3) disqualification of the attorney would work substantial hardship on the client."
In adopting Rule 3.7, the rules committee recognized "Combining the roles of advocate and witness can prejudice the tribunal and the opposing party and can also involve a conflict of interest." See Comment [1].
A conflict can arise for several reasons. For example, a lawyer's testimony might conflict with the client's, or the lawyer's testimony might require the disclosure of client confidences and secrets in violation of Rule 1.6. In these situations, the remedy is often disqualification.
Disqualification is generally determined based on the facts and circumstances of the particular case. Compare Azizollah Abrishamian v. Wash. Med. Group, P.C., 216 Md. App 386 (2014) (counsel disqualified without a hearing) and State v. Goldsberry, 419 Md. 100 (2011) (counsel should not have been disqualified; decision required balancing conflict with defendant's right to choose counsel).
The "personal interests" conflict and the "lawyer as witness" conflicts challenge us as counsel. These matters force us to look inward, and to examine our own issues, rather than looking outward at the conduct of others. Don't be afraid to do so.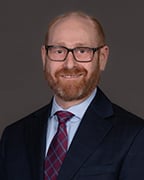 Craig Brodsky is a partner with Goodell, DeVries, Leech & Dann LLP in Baltimore. For over 25 years, he has represented attorneys in disciplinary cases and legal malpractice cases, and he has served as ethics counsel to numerous clients. His column in The Daily Record appears on the first Thursday of every month. He can be reached at csb@gdldlaw.com.
This article originally appeared in The Daily Record on November 1, 2023.
---
Goodell DeVries defends various professionals in Maryland, the District of Columbia, and Virginia, including lawyers and law firms. Many of these cases are ethics matters involving Bar Counsel. If you have questions about the above or are a Maryland lawyer facing discipline, please contact us at EthicsHelp@gdldlaw.com.