On June 5, 2019, the SEC voted to adopt a package of rulemakings and interpretations that are designed to provide additional protections to retail investors. One of the items approved by the SEC is Regulation Best Interest. This article analyzes Regulation Best Interest and the consequences to broker-dealers and registered representatives.
Overview of Regulation Best Interest
Under Regulation Best Interest, broker-dealers must act "in the best interest of a retail customer when making a recommendation of any securities transaction or investment strategy involving securities to a retail customer." SEC Press Release 2019-89. According to the SEC, Regulation Best Interest is designed to create a standard of conduct "beyond existing suitability obligations" by prohibiting broker-dealers and financial professionals from putting their interests ahead of the retail customer.
Regulation Best Interest places a number of enhanced obligations on broker-dealers. Several examples are below.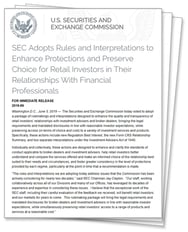 Disclosure Obligation: Broker-dealers must disclose material facts to the retail customer about the nature of their relationship, such as conflicts, fees, and the type and scope of services provided.
Care Obligation: The SEC has explained that "A broker-dealer must exercise reasonable diligence, care and skill when making a recommendation to a retail customer." SEC Press Release 2019-89. This means that broker-dealers must understand and consider the customer's investment profile and the potential risks, rewards, and costs of the securities transaction when making a recommendation.
Conflict of Interest Obligation: Broker-dealers must implement written policies and procedures that are reasonably designed to identify and disclose or eliminate conflicts.
Compliance Obligation: As a general matter, broker-dealers must establish and follow policies and procedures that are reasonably designed to comply with Regulation Best Interest.
What Broker-Dealers Should Do in Response to Regulation Best Interest
Broker-dealers must begin complying with Regulation Best Interest by June 30, 2020. Notably, investment advisors have a fiduciary duty to their clients under the Investment Advisers Act of 1940, and Regulation Best Interest does not change that. Thus, instead of a uniform set of rules for financial services professionals, there are now two seemingly similar yet different standards of conduct that apply – a "best interest" standard for broker-dealers and a fiduciary standard for investment advisors.
The adoption of Regulation Best Interest follows one year after a federal court struck down the Labor Department's rule that made broker-dealers fiduciaries, like investment advisors. Regulation Best Interest is ostensibly the SEC's attempt to bring consistency to the industry by making broker-dealers and investment advisers put their client's financial interests ahead of their own. However, there is no clear definition of what is in the client's best interest. For example, Regulation Best Interest does not require that broker-dealers recommend to their customers the mutual funds or exchange traded funds having the lowest costs. Of course, it remains to be seen how arbitrators and courts will interpret and apply the two standards.
In any event, to comply with their obligations, both broker-dealers and investment advisers will be required to prepare and deliver a "Form CRS Relationship Summary" to retail customers at the inception of their relationship. The Relationship Summary will include a substantial amount of information, including information about the services being offered and the fee structure, the disclosure of any conflicts of interest, and whether the broker-dealer and its financial professionals have a disciplinary history.
Goodell DeVries handles nationwide litigation and arbitration involving, among others, broker-dealers and registered representatives. If you are facing FINRA challenges, contact the author, Matthew Kohel, today for assistance. If you would like one of our experienced FINRA litigation attorneys to speak at your organization's event, contact Gina Eliadis to schedule a presentation.