During COVID, e-mails flow from bed, and pajamas are standard for video conferencing. Informal written communications are also more prevalent, but that quick text message you just sent may have created a contractual obligation.
This article is part of a series exploring issues impacting businesses during the uncertainty of COVID-19. In this part, I will discuss how informal electronic communication can unwittingly create contractual obligations. While this article discusses the application of Maryland law, the principles addressed are applicable in most jurisdictions. Whether your company is pursuing a business dispute or defending against one, it is important to understand how advances in communication can be interpreted by courts.
Most people envision contracts as formal documents chock full of legalese. In truth, many enforceable contracts are oral agreements. From complex to mundane, it does not take much to create a contract. Million-dollar deals have been stroked on the back of napkins.
Sometimes, a contract is required to be in writing, such as those that fall under the Statute of Frauds, which provides that "no action may be brought on any contract for the sale or disposition of land or of any interest in or concerning land unless the contract on which the action is brought, or some memorandum or note of it, is in writing and signed by the party to be charged or some other person lawfully authorized by him." Md. Real Property, Code Ann. § 5-104. The Statute of Frauds also applies to an action: "(1) To charge a defendant on any special promise to answer for the debt, default, or miscarriage of another person; (2) To charge any person on any agreement made on consideration of marriage; or (3) On any agreement that is not to be performed within 1 year from the making of the agreement." Md. Courts and Judicial Proceedings, Code Ann. § 5-901.
Let's first explore a simple agreement relevant for the times. Your neighbor offers to sell you four rolls of toilet paper for $50. You respond "deal." This creates a binding contract. In this example, the offer is to sell four rolls of toilet paper. The consideration for the deal is the payment of $50, and the contract is formed by the acceptance word "deal." Pre-COVID, this negotiation for domestic paper products would have been made during an over-the-fence discussion. But there is no reason the same contract could not be formed using the social distancing-approved text message or Facebook post.
Complex contract obligations can also be created through informal communications. One of my clients entered into a written contract to buy a property just prior to COVID. This contract contained several contingencies, including a property inspection. The inspection revealed several costly items of repair, which exceeded the amount of the repair contingency in the written contract. The buyer e-mailed the inspection report to the seller with the message: "We need to discuss." A prompt telephone call occurred between the buyer and seller. During the call, the buyer made it clear that he was still interested in the deal, but the price would need to be reduced as a result of the substantial repair costs. The seller also still wanted the deal to work. He instructed the buyer to obtain a repair estimate and then submit a revised offer. A few days later, with repair estimate in hand, the buyer initiated the following text message exchange with the seller: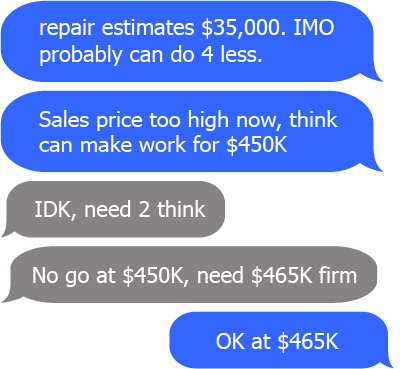 BUYER: repair estimates $35,000. IMO probably can do 4 less.
BUYER: Sales price too high now, think can make work for $450K
SELLER: IDK, need 2 think
SELLER: No go at $450K, need $465K firm
BUYER: OK at $465K
Two days later, the seller pulled out of the deal in favor of a better offer. He claimed the text messages were just proposals and unenforceable because modifications to the written contract for the sale of land had to be in a writing signed by him.
So, were the text messages sufficient? Although Maryland law is not settled on the issue, the facts of this dispute could support a contract modification by text message.
To be sure, the Statute of Frauds does require a written contract for the sale of land. However, the purpose of the Statute of Frauds is to avoid fraud — not to prevent enforcement of legitimate transactions. MEMC Elec. Materials, Inc. v. BP Solar Int'l, Inc., 196 Md. App. 318, 340 (2010). Whether a writing satisfies the Statute of Fraud's requirement is a question of law for a court to decide. Salisbury Bldg. Supply Co. v. Krause Marine Towing Corp., 162 Md. App. 154, 161 (2005). To find to the Statute of Frauds satisfied, the court does not need a perfect writing full of legalese. Even an incomplete writing can be sufficient as long as the court is satisfied that enforcement of the agreement will not advance a fraudulent claim. MEMC Elec. Materials, Inc., 196 Md. App. at 340.
Maryland law has already recognized that a series of communications can satisfy the Statute of Frauds. Tatum v. Richter, 280 Md. 332, 335-36, 373 A.2d 923 (1977). Relying on Tatum, the Maryland Court of Special Appeals found that "emails constitute a sufficient writing under the Statute [of Frauds]," MEMC Elec. Materials Inc., 196 Md. App. At 339. In finding e-mails sufficient, the Court of Special Appeals noted that a "writing includes printing, typewriting, or any other intentional reduction to tangible form." Md. Commercial Law Code Ann. § 1-201(43). A text message, a similar mode of communication to an e-mail, should also fit this definition. Indeed, other courts have found text message enforceable. "The way in which the parties handled the transaction was sufficient for them to appreciate that the text message would memorialize the contractual offer and acceptance." St. John's Holdings, LLC v. Two Elecs., LLC, 2016 Mass. LCR LEXIS 49, at *21 (Land Ct. Apr. 14, 2016).
Under the facts of this transaction, the absence of the seller's signature with the text messages should not present an overwhelming challenge, because the original written contract was signed by the seller. "A memorandum sufficient to satisfy the Statute [of Frauds] may be made or signed at any time before or after the formation of the contract." Royal Inv. Grp., LLC v. Wang, 183 Md. App. 406, 435, 961 A.2d 665, 682 (2008); citing the Restatement (Second) of Contracts § 136 (1981).
This article presents a possible outcome but not a guaranty as to how a court would interpret the fact pattern. Variations to this fact pattern could lead to a different result. If you have a contract dispute, you should contact an attorney to discuss the specifics of your matter. I am licensed to practice law in Maryland, Virginia, Washington D.C. and Pennsylvania where I advise large and small companies to efficiently resolve business disputes. My colleagues and I are continuing to serve our clients during COVID-19. If you have questions about your business, contact me at cxc@gdldlaw.com to schedule a call or video conference.