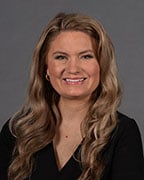 Congratulations to our partner Kaitlin Corey on being selected for The Daily Record's 2023 Leaders in Law honor.
Leaders in Law recognizes outstanding lawyers and judges across Maryland who are serving businesses, clients, and individuals and making our communities stronger. The awards celebration will be held on April 25.
Kaitlin is an accomplished lawyer, teacher, and mentor. She assists companies of all sizes in general corporate governance, mergers and acquisitions, and intellectual property protection and management matters. She regularly advises on brand protection strategies by reviewing marketing creative for legal compliance, clearing trademarks for use and registration, and licensing of trademarks and copyrights.
Kaitlin speaks regularly on copyright and trademark law and is an adjunct professor at the University of Baltimore School of Law, where she teaches Trademarks and Unfair Competition Law as well as Current Developments in Intellectual Property Law. She is Past Chair of the Intellectual Property Section of the Maryland State Bar Association (MSBA) and currently serves as Co-Chair of the Education Committee of the MSBA Young Lawyers Section. She is also a co-author of Goodell DeVries's intellectual property law blog.
Kaitlin serves as General Counsel for the Annapolis Police Foundation and as a Dean of the Lawyers' Campaign for CollegeBound. She is a member of the Board of Directors of the Northeastern Maryland Technology Council (NMTC) and serves as Board Secretary. She is Co-chair of the American Advertising Federation Baltimore's Legislative Committee, a Special Advisor and member of the Board of Directors of ITS Maryland, and a member of the Harford County Chamber of Commerce.
Kaitlin was named among The Daily Record's Leading Women Under 40 for 2022.